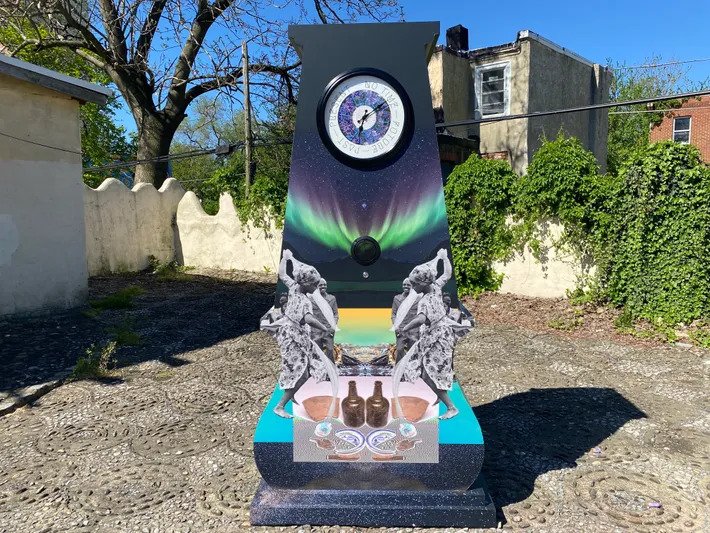 I helped put together some hanging ball LED lights above Mark and Courtney's piece, put some LED strip downlighting for Sadie's piece, and put together a recording device in a "Grandmother clock" to record sounds on site for the Black Quantum Futurism piece. Those samples are collected and reinterpreted for a "sound bath" consisting of two hyper-directional speakers on the nearby mural wall. – JG
Staying Power is an outdoor art exhibition and program series in the Fairhill-Hartranft neighborhood of Philadelphia. Staying Power asks artists, residents of the neighborhood, and visitors: What is your staying power in your neighborhood? What is your staying power in a city and world that are rapidly changing? Staying Power seeks to understand, amplify, and invest in the staying power of Fairhill-Hartranft's neighborhood residents.
Hosted by The Village of Arts and Humanities and curated with Monument Lab, Staying Power will feature prototype monuments by artists Sadie Barnette (Oakland), Black Quantum Futurism (Philadelphia), Courtney Bowles and Mark Strandquist (Philadelphia), Ebony G. Patterson (Chicago/Kingston), and Deborah Willis (New York City) that each respond to the curatorial prompts of the project. The resulting exhibition will include monumental outdoor sculpture, photographic installations, storefront activations, and research and performance engagements, presented alongside The Village's existing public collection of legacy artworks on the Germantown Avenue corridor of North Central Philadelphia.